USCIS Drastically Raises Filing Fees
It has been announced that on October 2, 2020, the final version of the fee rule proposed initially by USCIS in November 2019 will finally go into effect.
The Trump administration will be using this rule to raise processing fees borne by businesses, new citizens, and international students in need of work authorization.
Once effective, the rule will raise fees by 20% on average. This will surely bring financial pressure upon an enormous number of applicants.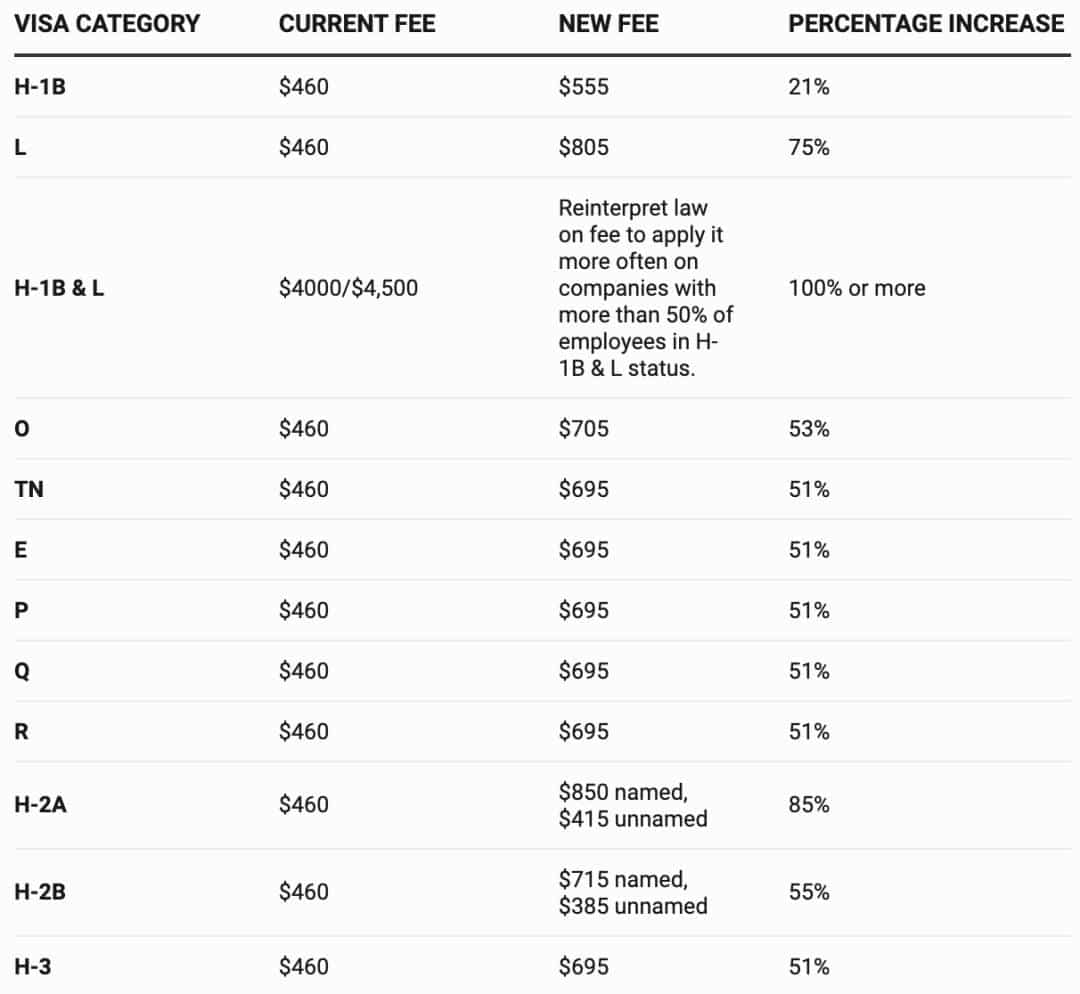 https://www.uscis.gov/archive/our-fees
The table above lists the change in fees for some visas. Go to the link above to view the full chart provided by USCIS.
H-1B and L-1 Visas: 
L visa petition fees will be raised from $460 to $805, making a 75% increase. H-1B will cause a 21% increase from $460 to $555.
In a company with over 50 employees, if half the workforce is under H-1B and L-1 status, the petition fee borne by the company will be significantly increased.
In the final rule, USCIS states that it has imposed an additional $4,000 fee on initial H-1B petitions and $4,500 on L-1 petitions.
Other High-Skilled Employment Visas:
Charges for some high-skilled employment visas will rise by more than 50%. O visa petitioners will be charged $705 compared to the previous amount of $460.
TN (NAFTA professionals), E (treaty traders and investors), P (athletes/entertainers), Q (cultural exchange), R (religious workers), and H-3 visas applicants will be charged $695, 51% more than the previous price of $460.
Premium Processing:

Premium processing cost will remain as previous, but the processing time has been prolonged from 15 calendar days to 15 business days, making the waiting time four days longer.
H-2A and H-2B Visa:

The fee for H-2A (seasonal and agricultural) will rise from $460 to $850, and H-2B (seasonal nonagricultural) visa petitions from $460 to $715. Employers will also be charged amounts drastically larger than before.
Costs for International Students' Adjustment of Status:

Form I-765 (application for employment authorization) is required when international students file for Optional Practical Training (OPT). The filing fee for the form will rise by 34% from $410 to $550.
Naturalization and Application for Asylum:

It will cost 80% more to file an N-400 (Application for Naturalization) when one attempts to obtain citizenship through naturalization as the filing fees rise from $640 to $1,160.
The fee for asylum applicants to obtain an employment authorization document (EAD) will change from zero to $490. Moreover, the U.S. will soon become the first country to charge an individual to apply for asylum as the USCIS begins to require a $50 fee.
This rule will hinder many asylum seekers' application process, as many of them face financial difficulties already.
Although this rule of the USCIS is somewhat expectable, taking into account how the agency has been suffering badly from the lack of funding lately, however, the skyrocketing prices still leave applicants flabbergasted.
Many believe that this rule is another move made by the Trump administration to discourage immigration.
The rise in fees will indeed prevent many petitions from being filed. The rule also makes many companies less willing to file for employees' petitions.
However, with the discouraging rules being effective, the number of petitions could sharply drop. If this becomes the case, will it not harm the USCIS financially even further?
Many have jokingly stated that being set for such high prices, a petition filed with the USCIS will soon become a luxury good. Are you going to be "ripped off" by the USCIS?
移民局手续费暴涨 申请要变"奢侈品"?
根据官方宣布,2020年10月2日,移民局在2019年11月提出的收费规定即将正式开始履行。特朗普政府将会大幅增长对企业,移民,以及需要工作许可的留学生们的移民局申请手续费。
这条规定正式开始运行后,手续费会平均暴涨20%。这对许多本来手头不宽裕的申请者来说更是雪上加霜。
H-1B和L-1:
L类别签证会从$460涨价75%至$805。H-1B则会涨价21%,由$460涨至$555。如果公司有超过50个员工,并且员工中一般都是H-1B或L-1身份,公司所交的申请费会被增加许多。
在规定的最终版本中,USCIS表明他们将会对H-1B申请人增加$4000美金的手续费征收。L-1则是$4500。
其他技术移民签证:
有些技术移民签证的申请费会增长超过50%。O类别签证会从$460涨价到$705。
TN签证(北美协约国工作签),E签证(非移民工作签证),P签证(运动员和演艺人员),Q签证(国际文化交流),R签证(宗教工作人员),以及H-3(特殊教育访客)会被收费$695。对比之前的$460增加了51%.
加急处理:
加急处理的费用不会变,但是处理时长从本来的15历日变成了15工作日。这可比之前足足长了4天!
H-2A和H-2B签证:
H-2A(季节性农业工人)签证价格从$460上涨到$850,H-2B(季节性非农业工人)签证从$460上涨到$715。雇主也会比之前缴付更多的费用。
国际学生转换身份费用:
在学生申请选择性实习训练时需要上交的I-765表格(工作许可申请)的手续费会进行34%的上涨,从$410涨至$550。
入籍以及庇护申请:
N-400表格(入籍申请)会面临惊人的80%暴涨。价格从$640变成$1,160的高价。
避难者申请工作许可的费用也从免费变成了$490。移民局也将会对庇护者收取50美金的申请费,美国"光荣"地成为了第一个向庇护申请者收费的国家。要知道,许多庇护申请者本已经背负着巨大的经济压力。这项规定会让他们变得更加窘迫。
其实近期移民局资金短缺,他们提出这种政策不是什么惊人之举。但是如此高昂的费用,还是让很多小伙伴们大吃一惊。有观点表示这项政策是特朗普打压移民的另一手段。确实,经过移民局这么狮子大开口,许多有移民意向的朋友们也都被浇了一盆冷水。不少本来想给员工申请移民的公司,也被吓得捂紧钱包。但是。。。这么一折腾,申请的人更少了,移民局不会更缺钱吗?