H-1B and L-1 Bans Loosened!
Ever since April, the Trump Administration has been drafting numerous bans that target immigrants. On June 22nd, he banned applicants of H-1B and L-1 visas from entering the country. The ban will last until December 31st. On August 12th, however, this ban was loosened.
The State Department announced that for the sake of the U.S. financial recovery, H-1B and L-1 applicants seeking to return to their original positions and employers will be issued visas and allowed to return to the U.S.
Of course, a series of qualifications need to be met for one to be granted an exception. Let us take a look at how one can be qualified.
H-1B
There are two ways to qualify for an exception for H-1B:
The first way is to show that the applicants will be working in the same position, under the same employer, and using a visa of the same category as before.
The second way is to fulfill 2 out of the five criteria listed in the diagram. These include having a high wage rate, outstanding educational level, etc.
Such rules are established to prevent U.S. employers from financial harm caused by the absence of the applicant.
"Critical infrastructures sectors" include financial services, information technology, communications, healthcare and public health, transportation, chemical, defense, water system, and organization.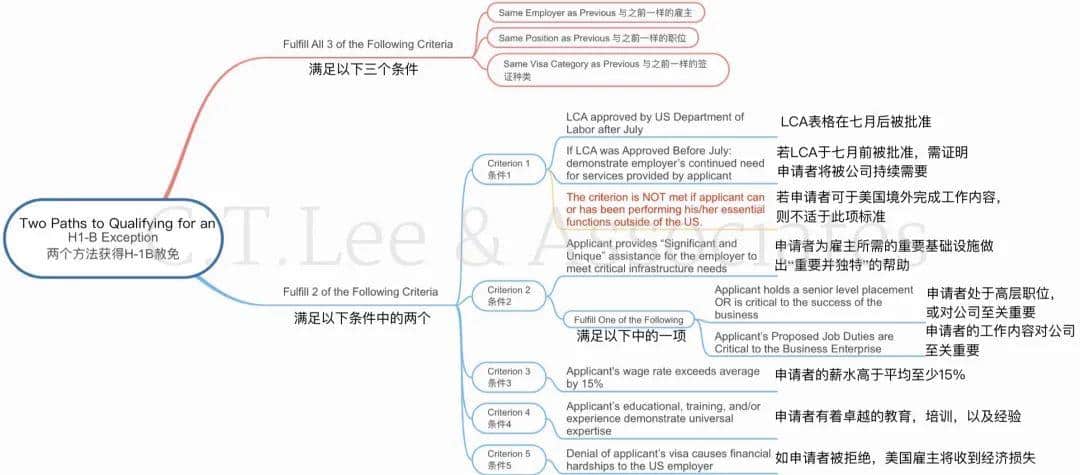 L-1A
Like the H-1B guidelines, if the applicant works in the same position, for the same employer, with the same type of visa as previous, he/she can be qualified.
The applicant also qualifies for an exception if he/she fulfills two out of the following criteria:
The applicant is a senior-level executive/manager
Has years of experience working overseas and has irreplaceable skills that would cause the company financial hardship if absent
Plays a critical role in the employer's fulfillment of a vital infrastructure need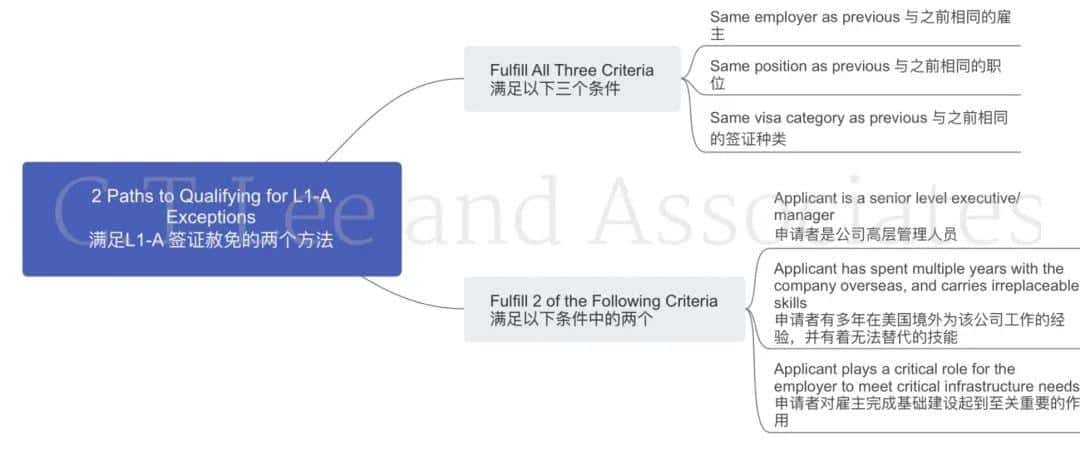 L1-B
Same as the previous visa applicants, if an L-1B applicant works in the same position, for the same employer, with the same type of visa as previous, he/she can be qualified.
Fulfilling ALL requirements below also qualifies one for an exception:
Proposed job duties provide "significant and unique."
contributions to the company
Applicant's specialized knowledge is critical to an
infrastructure need
Loss of the applicant's irreplaceable skills and knowledge gained through working with the company from overseas will be detrimental to the company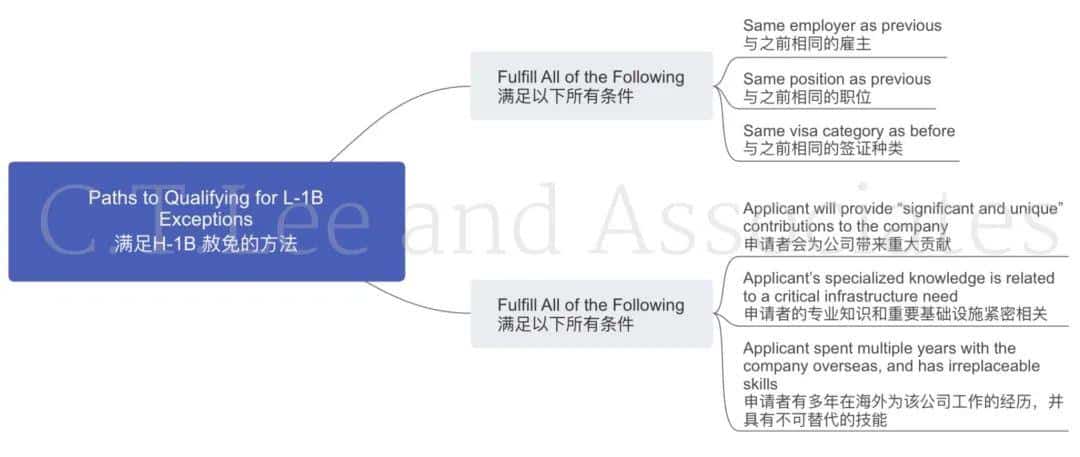 Seeking an Exemption
To seek an exception, the applicant needs to first make an emergency visa appointment at the consulate. Detailed evidence and reasons for one's qualifications need to be provided. The final determination will be announced at the interview.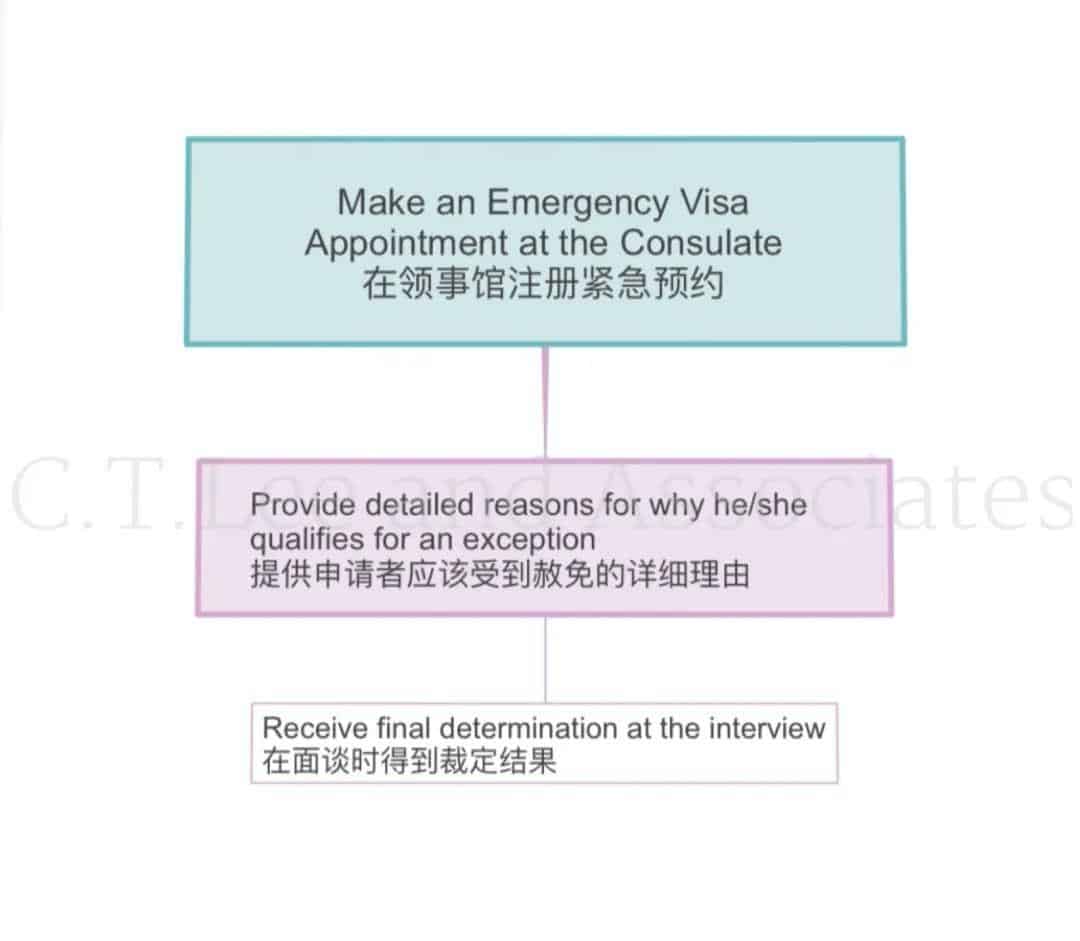 If one is qualified, her/his spouse and children also benefit from the exception.
H-1B,L-1入境禁令政策放宽!您可以被批准破例返美吗?
从四月开始,特朗普就不断推出各种针对移民者的政策。6月22日他更是直接禁止了H-1B及L-1签证申请人入境美国,并且这条政策还会持续到12月31日。但在8月12日,事情终于有了转机—H-1B和L-1的入境禁止令被放宽了!
美国国务院发布消息表示:为了让美国经济复苏,将允许H-1B及L-1签证申请人回到美国,在同样公司内继续他们原本的职位。当然,申请人必须满足一系列的要求,才可以被列为例外,并且允许入境。让我们来看看到底要满足什么样的条件才可以让申请者被破格准许返美。
H-1B
H-1B的申请者有两种方法可以合格破例标准:
第一种方法是满足:在与之前同样的职位工作,为同样的雇主工作,以及使用同样种类的签证,这三个条件。
第二种方法是满足:高薪水,拥有卓越教育水平及工作经验,等图中列出的五项条件其中的两项。这些要求都是为了避免作为雇主的美国企业受到移民禁令的"误伤",受到经济损失。
图中"重要基础建设"包括在内的有:金融服务,信息技术,通信,健康保险及公共健康,交通运输,化学,防卫,水利系统,以及核反应站。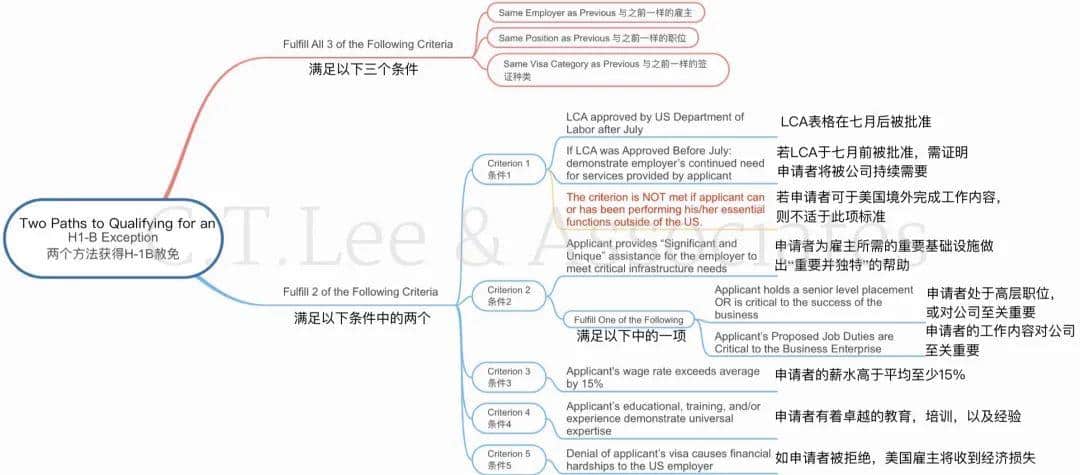 L1-A
相比起来,L-1A的要求更加简单明了。与H-1B同样,申请人只要还在同样职位,为同样雇主工作,以及使用同样类别签证,就可以合格。
申请人如果符合以下任意两个要求,也可以合格:
任职公司高管
有多年在海外为此公司工作的经验,拥有无法替代的技能或知识,以致于对此员工的辞退会对公司造成伤害
对雇主完成基础建设至关重要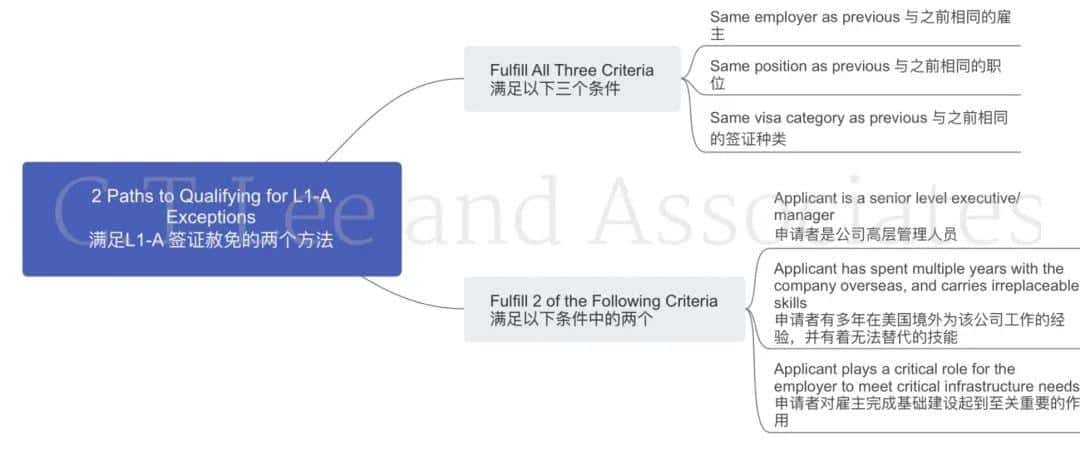 L1-B
与之前同样,若职位一样,雇主一样,签证种类一样,L-1B申请者即可被允许破例入境。此外,满足下列所有条件的申请者也可被允许入境:
工作项目对公司非常重要
专业知识对公司的基础建设不可缺少
有多年在海外为此公司工作的经验,拥有无法替代的技能或知识,以致于对此员工的辞退会对公司造成伤害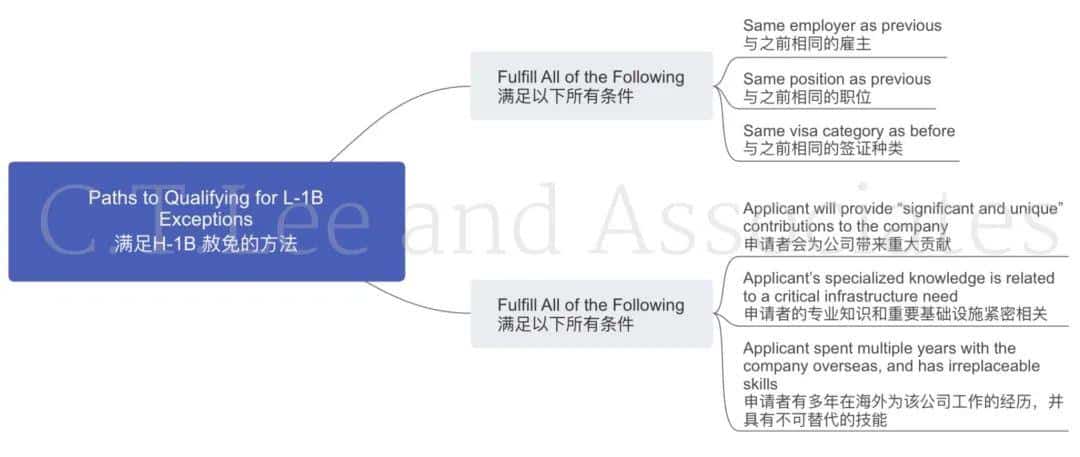 如何申请
申请破例返美的方法比较容易操作。先在领事馆注册紧急预约,然后提供申请人应受到破例处理的详细原因。最终裁定将在面谈时告知申请人。如果申请通过,申请人的配偶及子女也可获利。