ISRAELI NATIONS ELIGIBLE FOR SPECIAL VISAS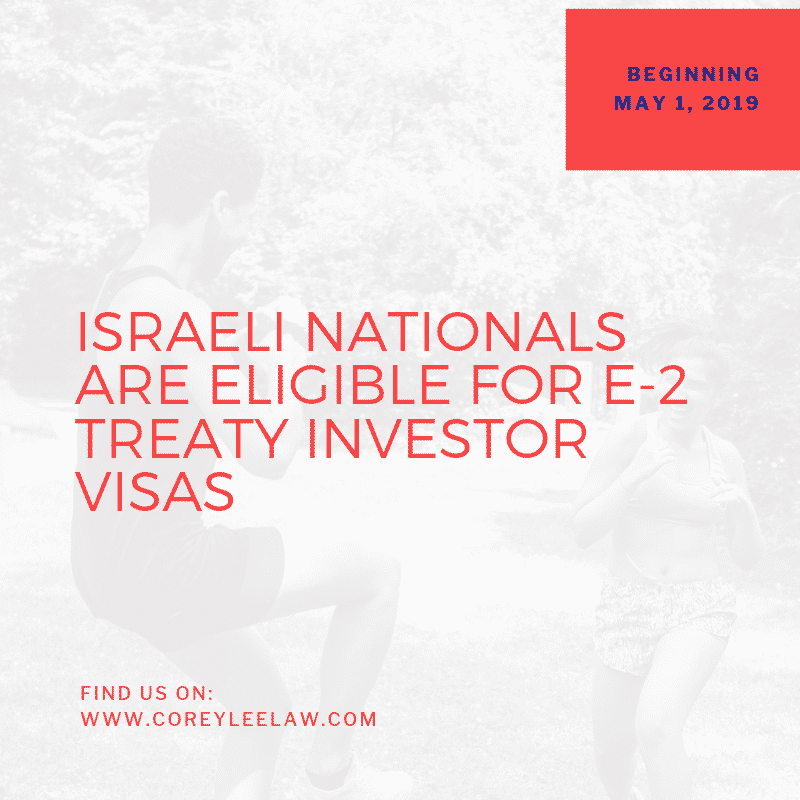 April 22, 2019
The USCIS recently announced that Israeli nationals will now be eligible for the coveted E-2 visa. The E-2 visas allow nationals from certain treaty countries to be eligible to remain in the United States if they are investing significant capital into US businesses. The visa can also potentially apply to certain employees of such investors, as well as extend to the spouses and children of E-2 visa holders. Israeli nationals already legally in the United States can petition to change to an E-2 visa starting on May 1st.
These changes will hopefully lead to increased economic cooperation between the United States and Israel, as well as an increase in capital to US businesses. It also opens a new avenue for more consistent immigration to the United States from Israel in comparison to other visa options, such as the H-1B visa, which is subject to a lottery system and has been recently criticized for its historic rate of denials.
For Israeli nationals who are interested in applying for an E-2 visa, the best course of action would be to work with qualified legal counsel specializing in immigration law. The US immigration process is complicated, and minor administrative mistakes can lead to denials. It is best to protect yourself with trusted immigration attorneys.
Source:
以色列公民将有资格获得E-2签证
移民局最近宣布,以色列国民从5月1日起将有资格获得E-2签证!E-2签证允许来自特定条约国家的公民如果向美国企业投入资金,换取留美机会。同时适用于E-2签证持有人的配偶和子女。已经合法留美的以色列公民可以在5月1日起递交E-2签证申请。
这些变化有望促进美国和以色列之间经济合作的增加,以及增加美国企业的资本。与其他签证相比,它还为以色列公民开辟了一条通往移民美国的新途径,例如H-1B签证,该签证受制于抽签系统,而且最近屡屡受到批评。
对于有兴趣申请E-2签证的以色列公民,最好的策略是与专门从事移民法的合格法律顾问合作。美国移民程序很复杂,轻微的错误可能导致申请被拒绝,要走好准备无误的每一步才是关键。
引用: